Tits on a Mech!!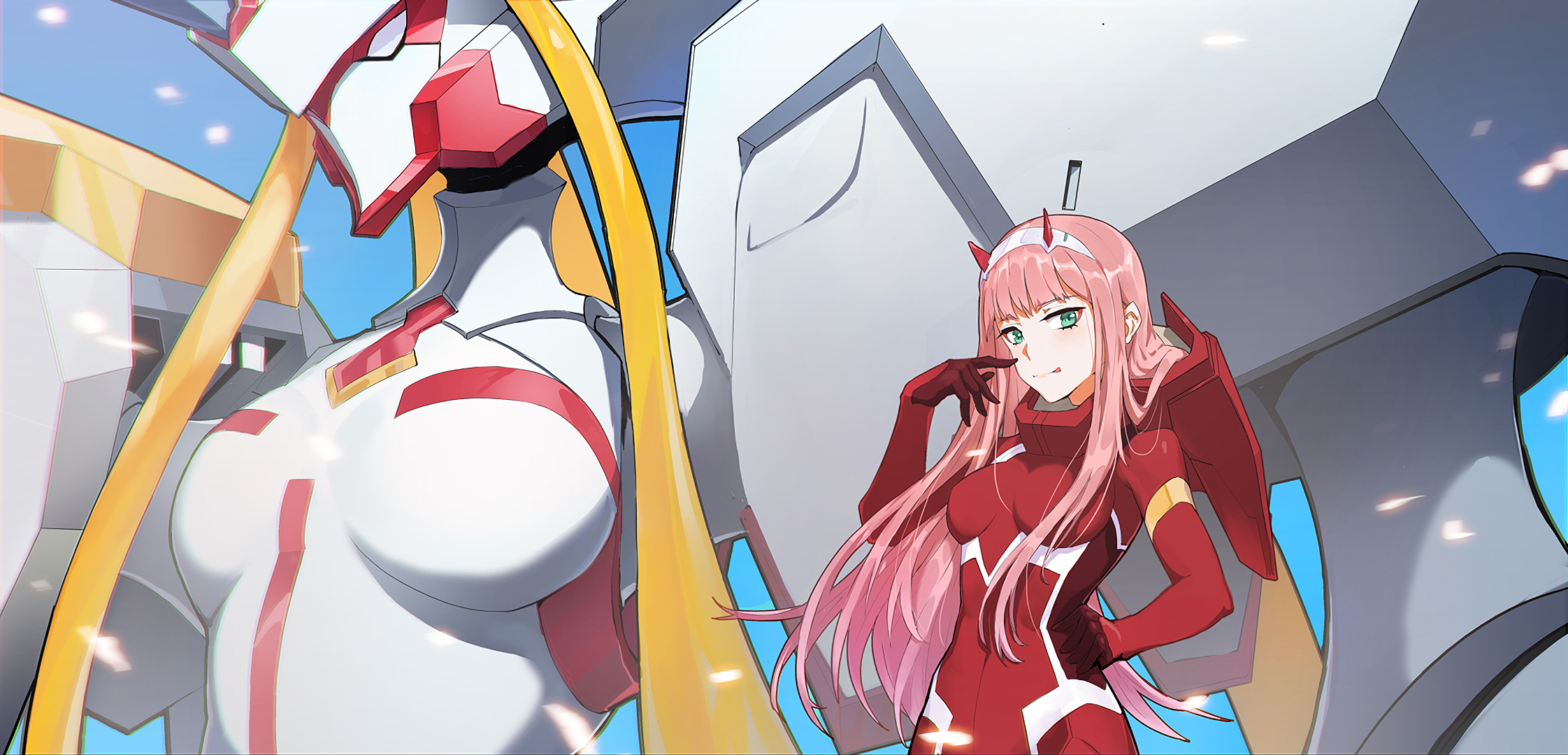 Welcome to Mirai Nikki-meets-Gurren Lagann-meets-Logan's Run (if it were an Anime):  Darling in the FranXX.  Unlike nearly every other Anime I've covered here, this one is actually still going with Ep. 14 having aired just this past Saturday (and a, decidedly, much-needed Ep. 15 due to come out this coming Saturday).  For more info on the shit-storm Ep. 14 caused, please see virtually any otaku's blog or channel….
Because, it seems, I never watch Anime for the same reasons most everyone else does, it's only natural that my take-away of Darling be departed to some degree from most everyone else's take on this show.
Firstly, I keep getting this awkward feeling of a foreboding, or the like, in relation to the Parasites in contrast to all the adults and, specifically, the entity named "Papa."  A Logan's Run– or Soylent Green-kinda foreboding feeling about this Anime….  Who's this "Papa," anyway?  How do these kids keep dying?  Is it as benign as they just keep dying to the klaxosaurs, or do those who are able to survive to adulthood "disappear" never to be seen again (ie, they're incinerated or something)?  Maybe the same has happened to Naomi?  Or, did she just die when the klaxosaur attacked the craft she was in?  What happens to the children who disappear while in the Garden?  Are they incinerated, or what?  I'm discomforted by all the things the adults are hiding from the Parasites, and equally discomforted by the Parasites, save for Hiro and Zero, just accepting the silence without question.  Then again, all save for Hiro, Zero, and Ichigo lost the ability to question anything a long time ago (along with their individuality — something very reminiscent of Kiznaiver).  This aspect of Darling is what I'm personally hoping to see more illuminated in coming episodes.
The means of piloting a FranXX is a pretty neat concept, to me.  Essentially, it's a microcosm of how healthy male-female relationships are meant to be:  The girl generally controls the mech's body (this may translate into women being willing to take on obstacles alongside her man, as well as standing up for him if he may need it), while the boy generally serves to guide the girl along and shares the burden of operating the mech with her (this may translate into men providing support for their women when they feel like breaking, as well as helping her along the path to her goals whenever she may get lost).  The stamen cannot do what the pistil does, nor can the pistil do what the stamen does — just as in real male-female relations.  At any rate, I admire the dynamic here.
And then there's the Yuuki and Yuno of Darling:  Hiro and Zero Two, respectively.  Zero even has the pink hair for the role (and Hiro the dark hair).  Hiro and Zero symbolize two "Jian" — a bird that, in oriental mythology, is born with only one wing, and so only by partnering with a soulmate for life can they ever actually fly (for a great example, see Xayah and Rakan of League of Legends).  Technically, each FranXX partnership here symbolizes two Jian; but, Hiro and Zero are meant to symbolize it most accurately since they're only able to pilot a FranXX when they're piloting one together.  Hiro and Zero are practically swimming in symbolism, actually.  Zero is the "Oni" hoping to become Human, while Hiro is the "White (or, perhaps, Dark) Knight" who, perhaps foolishly, falls for her; they end up loving each other, but in the end such opposing entities keep being pushed away by their very natures; the Beauty and the Beast is a very similar tale.  Because Hiro and Yuuki are very similar characters, and the same goes for Zero Two and Yuno, this means that Hiro also represents the god Jupiter while Zero represents his yandere sister Juno — and all the symbolism that is associated with those two deities.  I guess that would mean Ichigo represents the tsundere goddess Minerva….  It's also interesting that Zero drenches all her food in honey, perhaps as a metaphor for the fact that she's trying to hide her vile nature from the world (and herself) by "sugar-coating" it.
Finally, I guess I could focus a tad-bit on Ichigo….  As of Ep. 14, it seems like she's become the biggest villain in Anime history; but, I've no real idea where this is coming from.  To me, she's only acting in accordance to what's happening around her and to the way she feels about her fellow Parasite team-mates.  I expected nothing less from her that episode, and from the prior episodes.  She's team leader, so she needs to have her team's missions, goals, and safety foremost in her mind and in her actions.  She also, obviously, loves Hiro, so she especially is concerned for his well-being.  Her biggest fault is in being tsundere, and nothing more.  Zero, and even Kokoro, have her well and truly beat when it comes to SHTF in this Anime; Kokoro breaks Futoshi's heart because she's surprisingly selfish, and Zero's too deep in her delusion of becoming Human to realize that being Human is a state of mind and not an outcome based solely on how one looks or how one is born.  I was actually pleased with how Hiro handled Zero when she was trying to strangle his entire team in front of him; well done, Hiro!  Perhaps, that'll be enough for Zero to snap out of her coma and actually start loving Hiro back for once.
We'll see, though….