Crazy to think I was around the same age as these protagonists when this Anime aired across the Pacific…: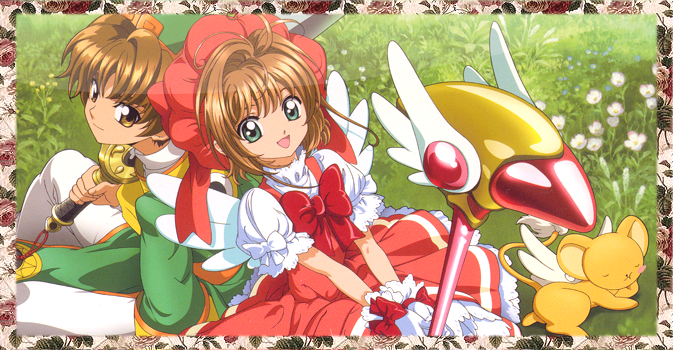 I recently re-watched Cardcaptor Sakura, the original Japanese (subbed) version, and holy crap were there a lot of changes made in the American dub I saw almost two decades ago now!
The original dub was titled Cardcaptors, and aside from Sakura and Shaoran nearly everyone else in the show had a name-change:  Toya became Tori, Tomoyo became Madison, Mizuki-sensei became Ms. Mackenzie, and Yukito became Julian — to name a few.  Even Sakura's surname was changed from Kinomoto to Avalon; I'm sure what saved her first name is the fact that it appears in English all over the place, namely on her oddly-shaped pencil case and on all of Clow Reid's Tarot-type cards she re-captures (the show's namesake).  Shaoran's name remains largely unchanged, I assume, because he's a transfer student from Hong Kong, which wouldn't affect the dub the way the other characters would.  Of course, Cardcaptors followed the same trend as Sailor Moon and Pokemon in cutting out anything that was deemed "controversial" when these Anime were released — things like homosexuality and under-aged love, both of which appear en-force in Cardcaptors.
While Japan has had a more open mindset on many things that were deemed controversial over in America for quite some time, I found that Cardcaptor Sakura made use of such things as same-sex and under-aged love affairs in a profound way:  They are explained as manifestations of interactions between people with strong innate magical power, and the strong feelings that do emerge ultimately foreshadow important elements that will appear in the future.  For example, both Sakura and Shaoran fall in love with Yukito, who just so happens to be a book-seal in disguise, named Yue (the other is Kerberos, the talking plush toy), who eventually passes judgement on them both to determine which of the two is fit to pick up where Clow Reid left off.  Toya becomes Mizuki's boyfriend, back when he was not much older than Sakura currently is and Mizuki was his teacher, and as such Mizuki ends up meeting with Sakura herself many times while she's re-capturing those cards she released by accident; Toya, on the other hand, has magical power of his own that allows him to see his mother's ghost, to know Yukito's true identity, and to know in advance where Sakura's going to be any given day and take up a part-time job somewhere very near to that place she will be (in order to look out for her).
While this show is technically for kids, I'd say it's still worth watching for anyone with an interest in magical girl-type Anime especially when there are some parts of the show that may go over a kid's head.  As for those who watched the original dub, I suggest watching a subbed version so you can pick up the plot points that were cut out in the dub.  All-round, it's a pretty neat show!